Two GDL Members hosted sessions at Bled Strategic Forum
No less than the future of Europe was the topic of discussion at this year's Bled Strategic Forum, taking place in Bled, Slovenia, from 31 August to 2 September.
Participants werw invited to discuss topics under the umbrella of "The Rule of Power or the Power of Rules?", focusing on Russia's war of aggression against Ukraine and the crisis of the multilateral world. The goal was to find answers to questions about the future of multilateral order and its role within the European Union. The latter must strengthen its stand on the international stage and its capability to deal with current and future challenges, which is why the first day of the BSF is a discussion between leaders and foreign ministers of Member States and High Representatives of the EU. This will be followed by debates around the consequences of Russia's aggression towards Ukraine and the EU on the second day.
For the sixth year in a row, the Global Diplomacy Lab was invited to contribute with two interactive sessions. Following this call, GDL members Elif Çavuşlu and Burak Ünveren created two formats addressing communication challenges.
Additionally, the GDL Members Rocío Cañas, Trinidad Saona, Carolina Sheinfeld, and Maia Mazurkiewicz were invited to provide important insights. As members of the Taskforce "Care and Diplomacy" of the Gender Alliance, Rocío, Trinidad and Carolina bring a perspective that puts equality and the ethics of care at the forefront. These values need to be the starting point from which international efforts beyond military effectiveness can be enhanced, leaning towards increasing cooperation for development and democracy. In combination with Maia's expertise in the field of citizen engagement, it was an innovative cross-sectoral approach to explore the future of care at the Bled Strategic Forum. ​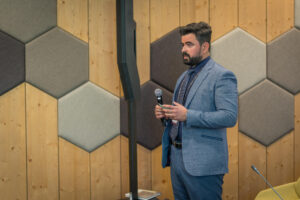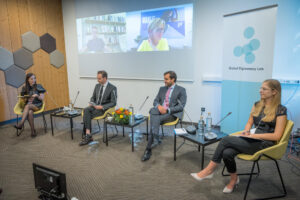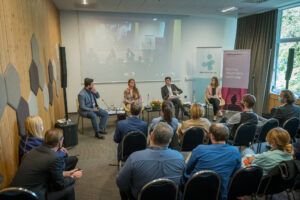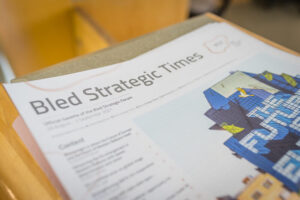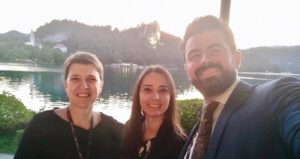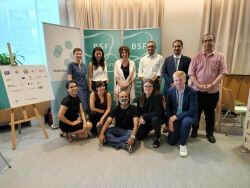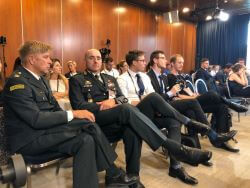 "Leaders of Communication: Fostering future engagement with citizens"
by Elif Çavuşlu
Apathy towards the European Union (EU) poses a considerable challenge for democracy as it creates a barrier to developing and improving public policy. The COVID-19 pandemic has only widened the gap between communities across Europe and eroded citizens' trust in the EU as well as in national governments. The Conference on the Future of Europe is an opportunity to get EU affairs onto the public agenda and spark interest in Europe's future in all segments of society.
Research shows that, compared to international organisations, communication by national representatives (government or civil society) is more effective in shaping citizens' perceptions. Furthermore, exposure to information on European politics and engagement in political discussions are factors that increase citizens' interest and engagement in European affairs. This entails a responsibility for everyone, be they politicians, diplomats, bureaucrats or civil society representatives, a responsibility to promote the EU's achievements, European values and democracy.
This session aims to encourage participants to be "leaders in communication" by addressing how to effectively engage their communities on the role of the European Union to help plug the gap on awareness, needs and expectations.
"Fighting Disinformation with Information: Securing Security through Facts"
by Burak Ünveren
Disinformation campaigns and fake news are emerging as a long-term threat to the values and security of the EU, as the line between information and disinformation becomes increasingly blurred. While there is a consensus that this challenge exists, there is no consensus on how to deal with it. However, efforts to fight disinformation have improved in recent years. They include the promotion of free and unbiased international media outlets that protect editorial independence; cybersecurity agencies; fact-checking teams and networks; and international non-governmental organisations dedicated to the freedom of the media.
The session on this topic was organised and conducted in partnership with GDL Leading Partner BMW Foundation Herbert Quandt. It contributed to the ongoing debate by bringing together various experts and activists who are involved in the process of fighting fake news and disinformation campaigns. As part of the participatory forum, those who play a direct role in the process were able to engage in dialogue with European citizens who were directly or indirectly affected by these developments.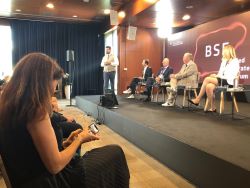 Burak Ünveren, Journalist at Deutsche Welle, freelance moderator and GDL-Member, is moderating the panel discussion on "Communication for cohesion: Proactive strategies to defeat disinformation".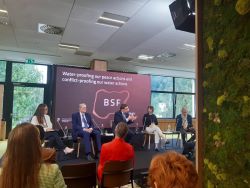 GDL-Members Irena Creed and Kathryn Bryk Friedman discussing "Water-proofing our peace actions and conflict-proofing our water actions" with former Slovenian president Danilo Türk.